Welcome to Nupsala Learning
Your free online learning resource for veterinary professionals and animal owners.
Most Recent Veterinary Professional Resources
Alpha2EQ Mini_Shortened Meso Therapy Training Video.mp4 from CXO5 Video on Vimeo.
View this resource »
Most Recent Animal Owner Resources
Veterinary surgeons Jason Lowe MBA BVS Cert EP and Jo Hales BVM&S MRCVS discuss the benefits of mānuka honey, the measures of honey purity and quality and how to use mānuka honey on wounds and skin complaints.
View this Resource »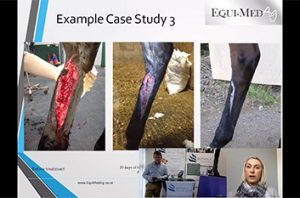 Equi-Med Ag's founder and inventor Kay Thirkell and Nupsala's Greg McGarrell discuss the science behind the use of activated carbon and silver for wound healing and Equi-Med's bandage dressing.
View this Resource »
Dr Leigh de Clifford from Mānuka Vet shares his tip on how to make a durable layer to securely cover a hoof and protect a poultice or pad.
View this Resource »